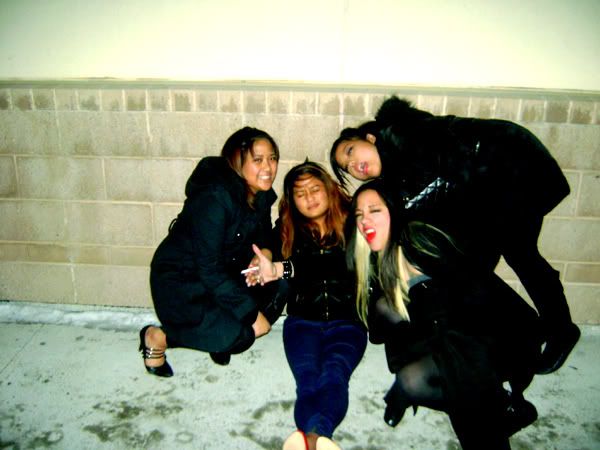 THERE COMES A DAY IN UR LIFE, WHEN YOU WANNA KICK BACK, STRAW HAT, ON THE PORCH WHEN YOU'RE OLD PERHAPS. WANNA GATHER YOUR THOUGHTS, HAVE A COLD ONE, BRAG TO UR GRANDKIDS ON HOW LIFE WAS GOLDEN..
TRIBUTE WEEK: DAY 7
THEIR NAMES ARE JESSICA CAMASO, JANET GARVEZ AND MARIBETH TABANERA. we are blood in blood out. we are belly. we are 213. we are 204. we are beer + wings. we're snow on christmas. we're a new pack of crayons. we're sand on the beach. we're summer rain. we're the swoosh on nikes. we're an illmatic beat..! for 8 years now, these girls have been my best friends. boyfriends came and went. maribeth and i went to tec voc, and jay&janet went to daniel mac. janet left winnipeg for edmonton. jay had a baby.. and even with all of that.. there is not one year we've gone without having a reunion. i always tell people, if you really love a person, you'd take a bullet for them.. &i would for these girls.. or i'd just push them out the way so we all live.. can't decide:) we've studied hard, cried hard, laughed hard, and slept hard. haha .. ladies and germs, these girls are absolutely everything you could ever want in best friends. jessica used to always let me copy her homework, run dat! she's fucking pretty and she'd be there quick fast with just one phone call. she also gave me the handsomest god son in the world (who will become the biggest sneakerhead, STEP YA GAME UP KIDS)..! she's very crafty and responsible.. we were almost robbed one halloween cuz we persuaded her to go to mcdonalds.. good times. janet is gonna take care of me when i'm sick. she's hilarious as fuck and focused to the tip. she's a bomb ass cook, and her style is wicked! she's always giving away her clothes so i plan to keep her in my life for quite some time;) AND MARIBETH.. well. if you don't know what i think of maribeth by now, shit is a done deal. maribeth's my sister, completely. i call her mom and dad, mom and dad. that's how legit in my life she's become.. even if i see her mom and dad more than her haha. our phone calls can last hours, and our jokes are timeless. we're pretty much the funniest people in winnipeg.. to us at least.
you've seen us in the halls of school. you've seen us at basketball games. you've seen us at parties. you know us. we're best friends, for today, tomorrow, next week, and forever.
feelin: sick
listen: arrested development - honeymoon day