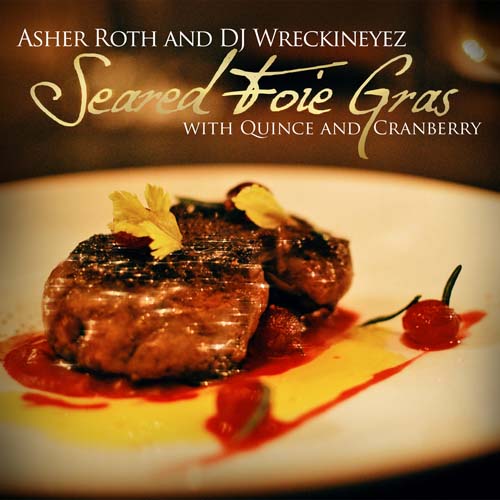 TRY ANYTHING ONCE, EXCEPT FOR FUCKIN' UP THE BUTT
so since i didn't post a mixtape review yesterday.. AND i haven't been blogging consistently.. i'm going to make it up to you. sorry for the lack of entries. i decided to leave you with a mixtape review. better late than never right! oh and i also got a form spring! i just thought it would be nice to keep shit logged.. so ask me something!! http://www.formspring.me/syntifik
ASHER ROTH, DJ WRECKINEYEZ - SEARED FOIE GRAS WITH QUINCE AND CRANBERRY
longest title of all time. i downloaded this for three reasons. 1, the beat selection is absolutely wild. the first track has a madlib instrumental! the instrumental list alone is something to be fucking with. 2, i lurvessss asher. & 3, i thought "MM..food?! let's see how he does this".
he starts off by saying a quick fuck you to the haters by shitting on all the rumors being said about him. it was well said, but casual. like he wasn't rapping anymore, almost as if he was reading his book of rhymes in his head.
i can't remember how i first heard about asher roth, but as soon as i heard him, i was digging him.. this kid has flowwwww.. and okay okay, the eminem reference is expected. fuck even he expected it.. and he wrote about it.. so what's the big deal?! he just likes to rap, and he does it fucking well. you either really like asher, or you really hate him. i happen to love him.
the thing that i loved about this tape was how well it was mixed.. so if you burn it, make sure you fucking don't leave a pause between tracks.. that shit is too good. it gets kind of confusing when you're on a different song, but that's because i personally haven't heard a good blend in a while.
from what i've heard from asher, this is good.. but it isn't great.. and by great, i mean his best. i kind of felt like he was holding back a little.. which is a debate for me. i'm not sure if he's doing this to go hard on his next album and blow me away, or if he just fell off a little bit. i am of course hoping he's holding out a little bit. he says some lovely things, however it's a little bland. he even said, "i'm just lazy as fuck" and as soon as i heard that i thought, "real talk". lol.. he impressed me with this, and it was a lazy effort. so that's some shit.
with such a crazy beat selection, he didn't do any of the beats justice.. but he still tore them up. i admire him for loving hip hop enough to have an appreciation for such dope instrumentals and the tape is listenable. lyrics aren't top notch from beginning to end, but they're in there. he's growing, but this tape was just a centimetre, as opposed to an inch. he fell into hip hop almost too quickly, and i feel like he's not sure how to go about all of this. i think he reached high but didn't hit the top.. i feel he's thinking something along the lines of "what do i want?!".. he's clearly getting buzz for "i love college" and that's it. i'm sure that attracted a huge fan base that he forgot he was going to attract.. but i'm fucking excited for whatever he drops next. his flow is so nice. college humour meets politic esque rapping with lupe emphasizing, and a little laziness! but with those three factors, i don't have a lot to complain about. he threw on some filler lyrics but it was a good listen. get on him.
3/5

contradicting and shit.

1. Muddy Swim Trunks (served by Madlib) - putting a lupe flow on! accentuating the last part of bars and shit.. i like when rappers do that. hence why i love lupe so much.
2. Toni Braxton (served by RZA)
3. Pubic Garden (served by Pharrell)
4. Vagitables (served by 9th Wonder) - comparing vegetables to female body parts?! fucking comical.
5. F*ck The Money (served by Kanye West) - already on b.o.b.'s mixtape but SO DOPE
6. What Up Truck (served by Jake One)
7. Trash Minutes (served by J Dilla)
8. Ash & Dem (served by J Dilla)
9. Con-fid-ence (served by Kanye West)
10. I'm Eddy (served by Heatmakers)
11. Rik Smits (served by Just Blaze)
12. F*ck Your Ringtone Dog (served by J Dilla)
13. Hot Wangs (served by Will.I.Am)
14. Diamond Girl (served by Ryan Leslie)
15. Cumbaya (served by Timbaland) - this shit is fucking garbage. skip it.
16 Calling Me (served by Younglord)
17. Hellafaded (served by Chad Hamilton)
18. Sour Patch Kids Remix (served by Travis Barker) - travis barker!! +talib.. +blu?! awwwwzuuummmm/.

i am so head bust right noww. it is foggy. sorry scarborough. it took me three times to spell scarborough.